Speakers' Corner
The Speakers' Corner offers a new stage for innovation at Powertage. Lively, modern formats create a great option for both young and established companies to step into the limelight.
We are now offering you the opportunity to present your new product or service at the fully equipped Speakers' Corner in the middle of the lively xplor Startup Village. Share your innovation with a wide trade fair audience and in conversation with leading experts from the Swiss electricity industry.
Practical, varied and uncomplicated
Innovation
The Speakers Corner creates space for the innovative content of the partners. It is characterized by dynamic, varied formats and a surprising staging and thus promotes the exchange between opinion leaders, experts and visitors.
Products and solutions
Companies show their new products and solutions.
Variety
News is presented from all subject areas of the industry. This gives every visitor the opportunity to learn about something that directly affects him/her. At the same time, it presents the diversity of the innovation landscape of the electricity industry.
Our offers for your presence at the Speakers Corner
Innovation Pitch
Short pitches from established companies, startups, scaleups or research teams.
Presentation duration per person: max. 5 min
Professionally moderated
Expert is brought in for subsequent round of talks
Price:
Exhibitor: CHF 500.- plus VAT.
Startup: CHF 200.- plus VAT.
Non-exhibitors: CHF 2'300.- plus VAT, incl. obligatory basic media package



Products & Solutions
Short presentations on products and solutions
Presentation duration per person: max. 10 min
Professionally moderated
Followed by Q&A with the moderator and interested participants on site.
Price:
Exhibitor: CHF 1'000.- plus VAT.
Non-exhibitors: CHF 2'800.-, plus VAT. , incl. obligatory basic media package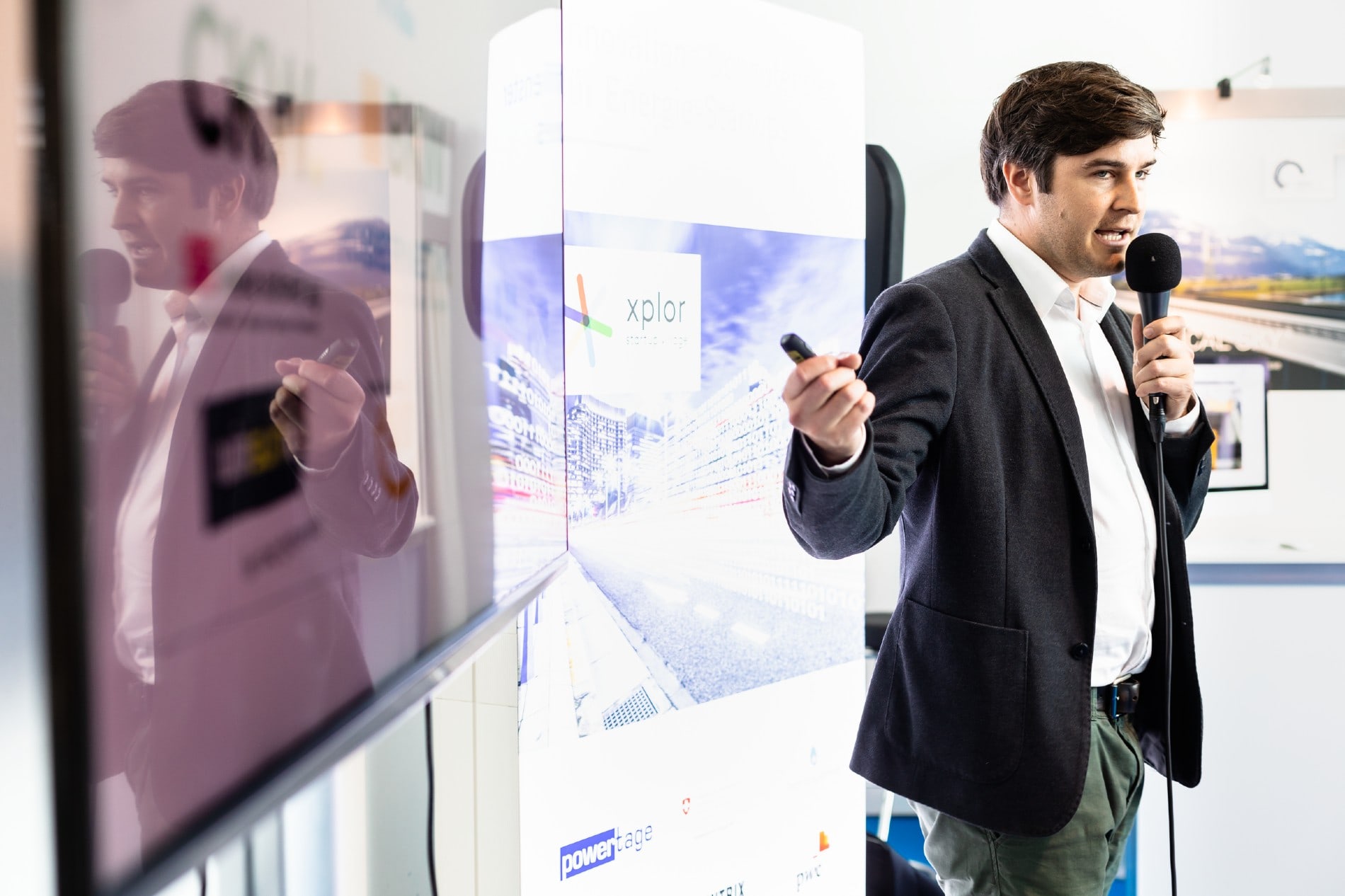 Book now! Receive a discount of CHF 100 if you book two time slots.
The offer includes:
Presentation on an open, centrally located stage, incl. seating for approx. 20 people
Support before and during the trade fair (briefing, moderation, technical matters)
Event technology, incl. technician (screen, microphone, speakres)
Logo placement on site
Publication of the event in the program, incl. logo
Powertage online campaign to advertise the event
Documentation of your presentation on the Powertage homepage after the event
Interested? Then please contact us. Registrations can be made from from mid-February 2022.